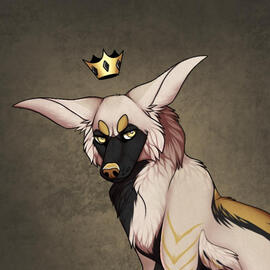 Drawing Okay Art
---
Welcome!
My name is Mikayla,more commonly known as "Beebo." I'm just a kid living in Texas currently pursuing a degree in Animal Science. Art has been my passion ever since I could remember and I'm so excited to be able to create for others!
Image above © Loup
Terms of service
As the artist I reserve all rights to refuse service to anyone for any reason.
I'm a full-time college student and I have personal life outside of the computer, please do not rush me! If you cannot take a few moments to read my TOS, I will not dedicate weeks of my time on your commission and cannot permit you to use my work.
By using my artwork in any way, you are automatically consenting to abide by this Terms Of Service document.

The Terms of Service here become effective immediately upon commission or use of my work until the day you choose to relinquish your permission or if they are otherwise suspended.
All work created is copyright to Drawing Okay Art and may be used in advertisements/galleries/etc.
Payment and Refunds
All payments are accepted through PayPal, Cash app or Venmo in American Dollars (USD) currency only. Payment must be made upfront
I will not begin working on your commission until full payment is received.
Once I have started your commission refunds will not be given under any circumstances.
If I have to cancel the commission for any reason then I will give the commissioner a full refund.
If the commission is needing to be canceled after work has been started, only partial refund can be issued as time and labor has already been invested.
Commissions are non-refundable after the final product has been delivered to order, used or accepted by the commissioner. If you decide to tell me you are unsatisfied with some aspect of the artwork after this, I will not refund you.
Art Edit/ Change Requests
If a complete redraw is requested at any point past the sketch approval stage, it will count as a separate commission piece and be charged as such. This typically includes but is not limited to : (a) different character(s), background, color scheme, angle of the same image, etc. Large edits cost larger fees, smaller edits will cost a smaller fee decided at artist's discretion.
What I Will Draw & What I Will Not Draw
I will NOT draw adult themed content that is provocative or implies any type of sexual themes.
My area of strength is animals and creatures but I will draw anthros and humans
I recommend looking through my galleries to get a good feel of my style before commissioning me.
Buyers Rights
AKA what you can and can not do with my art work.
Custom artwork may be used in whatever way you see fit, as long as it is not resold or claimed to be made by anyone else besides myself.
Any art that has been purchased from me may be sold, gifted, or traded ONLY IF it's along with the character. You cannot sell individual art pieces for any other reason.
Premades may be modded to suit your character's needs.
Permissions for premade art must be sold individually. That means your friends cannot use the permades that you bought. You may buy the premades a second time as a gift for other people, but otherwise, only one user per direct purchase.
If you purchase an adopt or character made by myself you own the rights to the design and may do as you wish with it(sell, trade, give away modify etc.) UNLESS I have given you "special TOS" for said design.
Questions? Get in touch here!
Prices
These are base prices.The final price you pay ultimately comes down to what is requested.
Things that affect price include: character complexity, multiple characters, abundance of accessories, wings, abnormal anatomy etc.
Please contact me if you are interested in a commission that is not listed.
You may also view my gallery for more examples of my artwork
Sketches
Rough drawings that are uncolored and do not have a background they start out at $10
Chibis
These start out at $15
Please note with this commission anatomy is simplified as well as any complex markings that may be present on your character.
Head Shot
Head shot from the neck up of your character starting at $25
+$10 per extra character
Full Bodies
As the title says full body drawing of your character.
$25 for flats $30 for shading
$5 complexity fee may apply
Will include a transparent version
Reference Sheets
Reference Sheets start at $50.
Includes the following:
One flat color full body to show the design. (I am able to flip the full body to show both sides for free if you request it.)
One lined headshot
Color palette
Name/additional info if requested.
Anything additional such as extra views, show case of accessories, different forms etc. will cost extra depending on the nature.
Illustration
Illustrations start at $60. These are fully rendered drawings with detailed backgrounds.
Gallery
Still a work in progress!
Queue
My current queue is available on my Trello. Here you can see the status of all my commissions.
Contact Me
Got questions? Contact me at any of the social media's listed below.
For faster responses I encourage you to message my discord Beebo#4379